I. Skeletal System Organization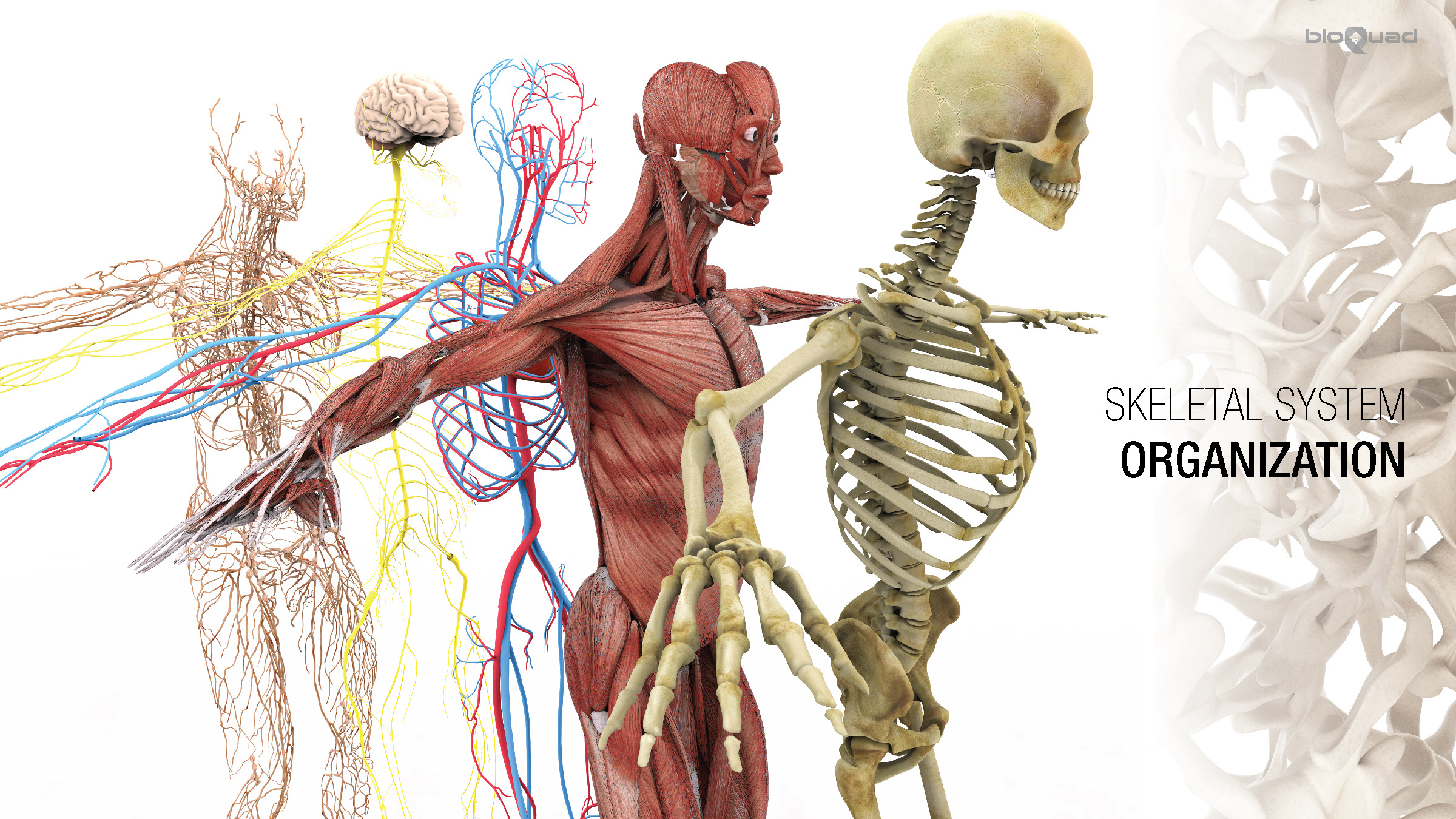 Bone is a biological marvel from Mother Nature; it makes vertebrates distinct from other life forms. Bone has the same strength as cast iron, but achieves this remarkable feat while remaining as light as wood. The front leg of a horse can withstand mechanical stress from heavy loads while this 1500-pound animal gallops at 40 miles per hour. The wing bone is able to keep birds aloft through entire migrations, sometimes over 10,000 miles without landing. The antlers of deer, used as weapons in territorial clashes with other deer, undergo tremendous impacts without a fracture – ready to fight another day. Without question, bone is the ultimate biomaterial. It is light, strong, adaptable to functional demands, and can repair itself.
Bones provide a rigid structure – the skeleton. Like an architectural framework, skeleton forms an internal structure that provides resistance to the force of gravity, move through space, and carry the physical body with grace and dignity. The large bones of the lower limbs support the trunk when standing. The fused bones of the cranium surround the brain to make it less vulnerable to injury. Vertebrae surround and protect the spinal cord and bones of the rib cage help protect the heart and lungs of the thorax. Bones work together with muscles as simple mechanical lever systems to produce body movement.
II. Skeletal System Replenishment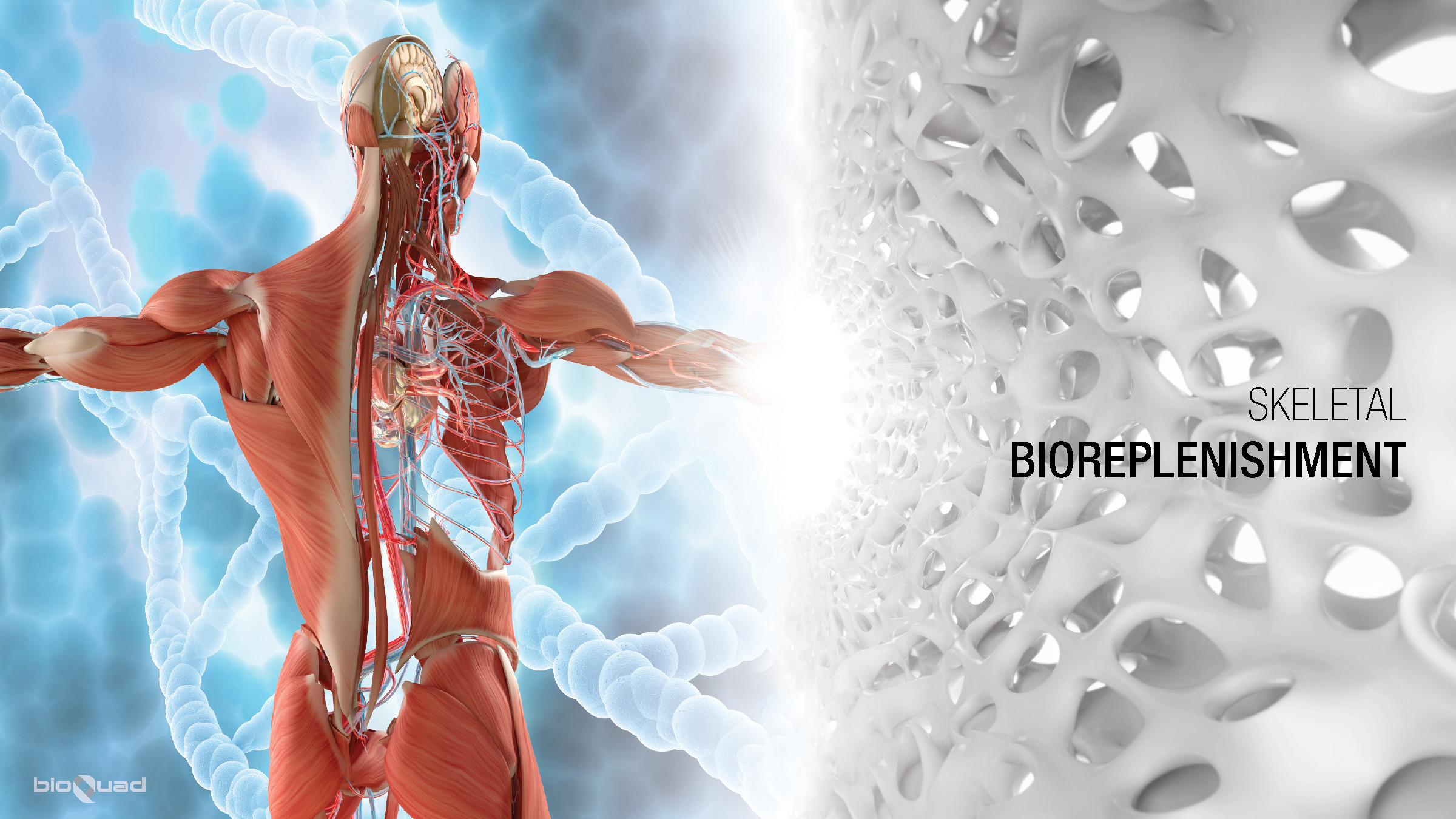 Bone Health is achieved during the childhood and adolescence, the skeletal forming years; and is established during young adult years of life. Management and functional up keeping of the bone health status is dependent on several factors including, nutrition, lifestyle, environment and age. Diet could affect the overall outcome of bone health. Malnutrition (low calcium, vitamin-D and trace mineral intake), oral hygiene and diabetes, can influence the bone health status. Addictive habits, such as tobacco consumption, smoking, alcohol, drug abuse, extreme dieting and certain medications could adversely affect bone health. Bones work on the 'use it or lose it' principle. Therefore, physical activities, especially, the weight-bearing exercises influence the strength and agility of the skeletal system. Indoor living (with little or no exposure to sunlight) and sedentary lifestyle could trigger a rapid bone loss. Aging is an ongoing biological phenomenon. Environmental factors (i.e. polluted air, water and land) and stress can take a cumulative toll on the body and cause rapid aging. Skeletal system is the primary target of an aging process. Sports, occupational and accidental injuries only worsen the aging bone. [Kiebzak 1991, US-DHHS 2000, Wright et al 2003].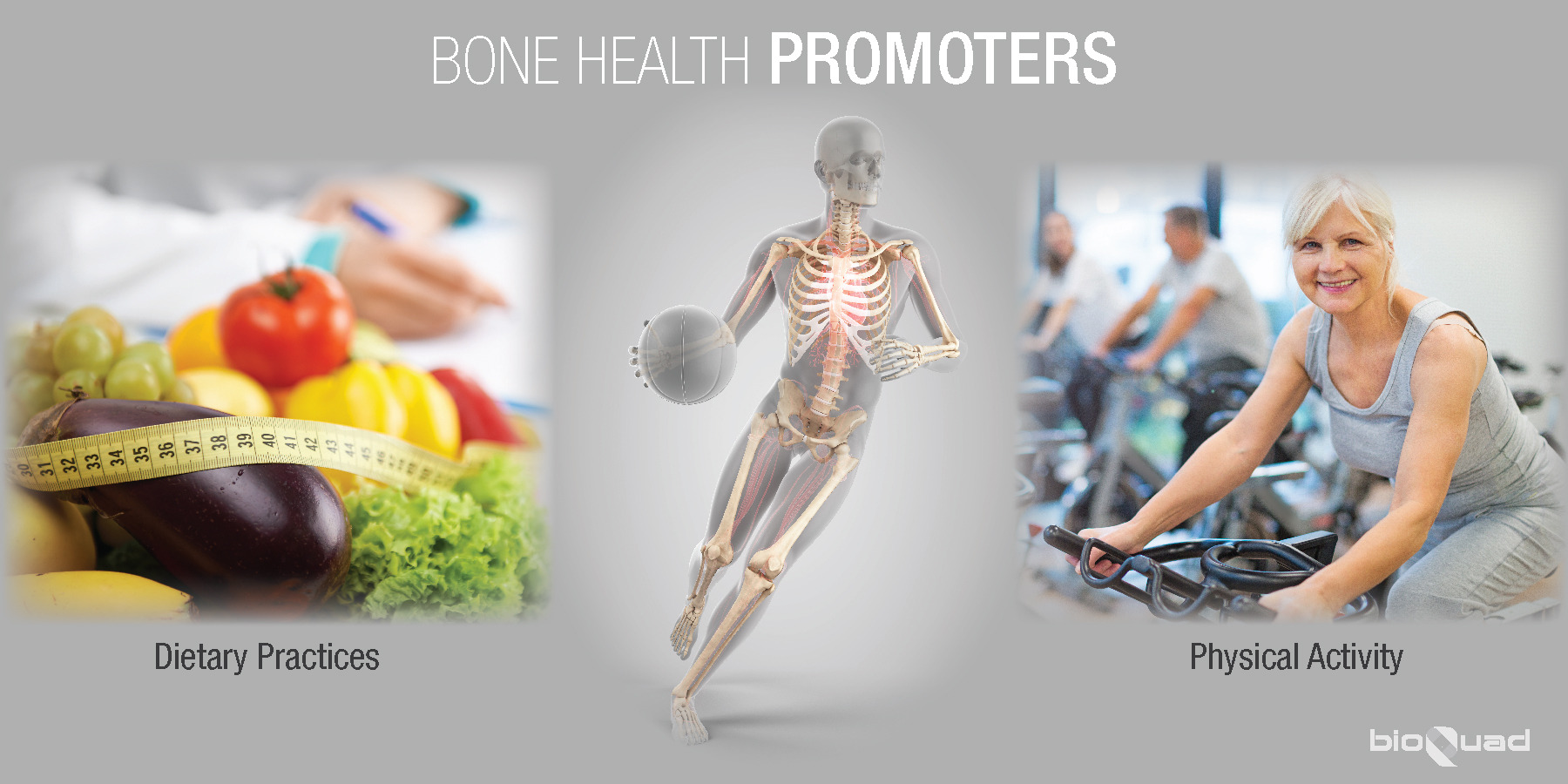 Lifestyle factors strongly influence bone health. Sedentary lifestyle will result in bone thinning. Our current generation is 'immobilized' in front of a computer screen; a severe compromise to bone function. The human race, in the name of comfort, is gradually leaning towards a sedentary lifestyle with remote controls, mechanical devices that drive, fly and float. The Nature's law of 'use it or lose it', with its enforcement (or forced adaption) could cripple the human skeletal system [Salamone et al 1999].
Physical activity: In addition to adequate calcium and vitamin-D intakes, weight bearing exercises are critical to the development, repair and maintenance of healthy bones [Specker 1996]. Higher bone mass is evident among athletes than non-athletes, and in highly active children compared to those who are sedentary. A similar trend can be observed in retired dancers and gymnasts. Reaching the peak bone mass during early years of life, is likely to offset future development of osteoporosis and bone fragility. Weight-bearing exercise strongly influences bone health [Bassey and Ramsdale 1994]. An astronaut in space can develop osteopenia within 6 weeks due to lack of weight-bearing stimulus to the bone.
Several clinical trials have shown that exercise in elderly women may prevent bone loss and increase bone mineral density (BMD), significantly [Wallace 2000, Kelley et al 2001]. Brisk walking, stepping block training, resistance and strength training provide positive benefits to the BMD of spine. In these studies, physical activity has shown a small reduction in fracture risk, inconsistent reduction in risk for falls and limited evidence in improving bone quality. However, among the elderly, physical activity could increase the risk for injury from falls as it involves skeletal muscle movement that displaces the body's center of gravity and balance. Statistically, among the elderly, walking and climbing stairs are the two most common causes of non-fainting falls, which makes up 39% and 20% of falls, respectively. However, physical exercises done with proper training can significantly improve bone density and strength. Mechanical stresses such as enduring weight or bending are essential aspects of physical activity. These activities mobilize hormones and nutrients to the regions of the body that are undergoing stress. Studies have shown mineral accumulation in such regions of the bone, which eventually increase the bone mass. Therefore, physical activity is crucial in the prevention or even reversal of post-menopausal bone loss [Wolff et al 1999].
Weight-bearing activities such as brisk walking and resistance exercises are effective in increasing bone mass and strength. But this effect also declines with age; therefore it is advised to establish an exercise schedule while young and make it a part of the lifestyle. Weight-bearing exercises seem to enhance bone mineral accrual in children, particularly during early puberty [Bass et al 2002].
Dietary practices (e.g. weight loss diets, semi-starvation diets, crash diets) mostly among women, and also some men, attempting to be fashionably thin, can cause serious bone health problems [Wardlaw 1988]. Thin individuals have thin bones. Usually, underweight persons do not consume enough calories to maintain proper body weight; which can result in low BMD. Patterns of self-imposed under nourishment often begin early in life as adolescents become weight conscious. Body weight is the best predictors of BMD. Low body weight is associated with low peak bone mass development in the young, which eventually poses the risk of increased bone loss and fragility fractures in the adulthood. Body mass index (BMI) denotes the relationship between body weights to height and is used to classify individuals as being below or over a healthy range. The risk for hip fractures almost doubles in people with BMI of 20 kg/m2, compared to those with BMI of 25 kg/m2. Overweight adults on a calorie-restricted diet to lose weight, should take proper care to prevent bone loss. Sufficient intake of calcium and vitamin-D, and weight bearing physical activity are highly recommended to individuals on weight loss diets. It is also important to avoid 'fad' diets that eliminate whole foods [USDA 1992].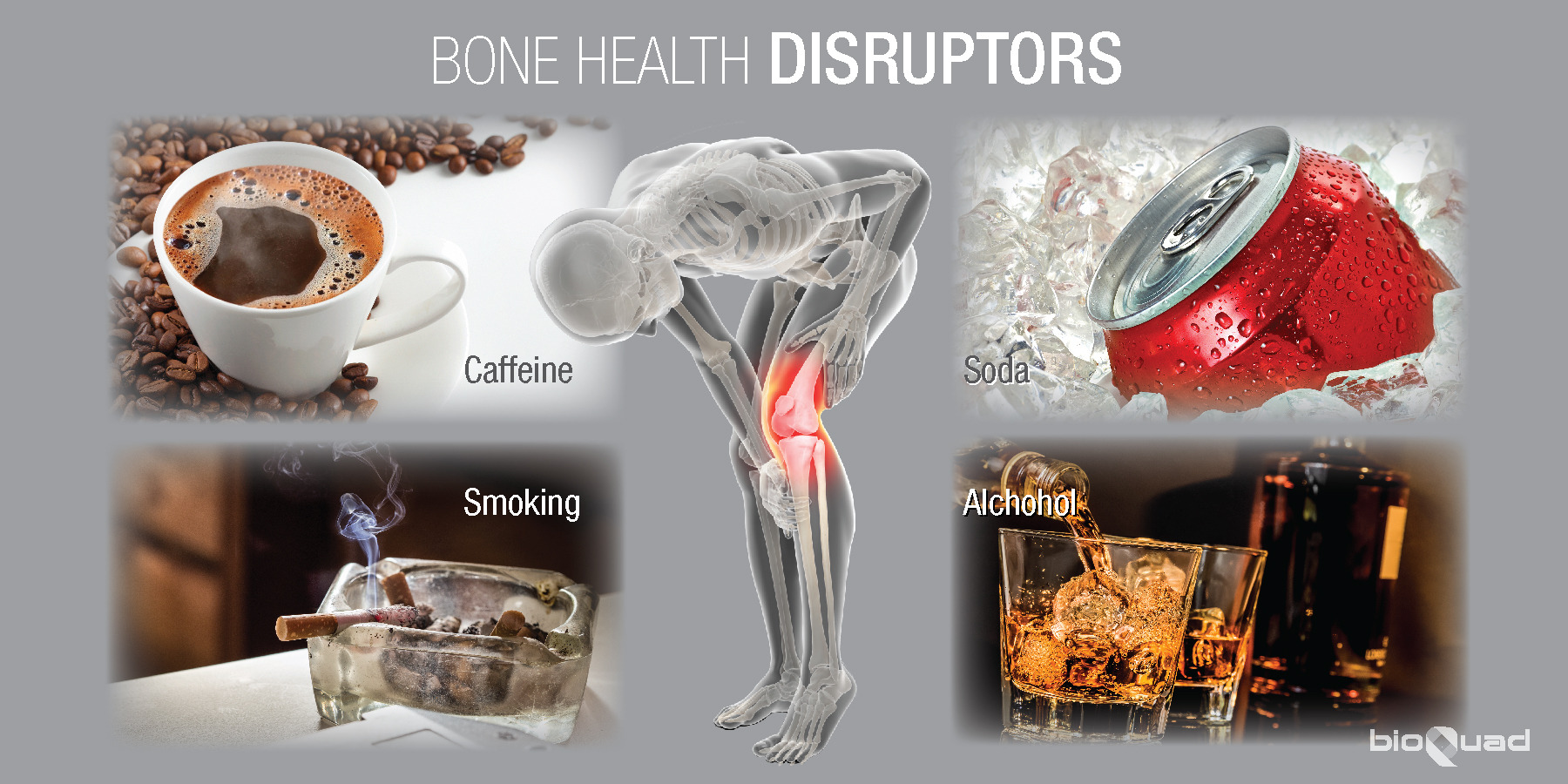 Alcohol could cause several detrimental effects on the bone. Alcohol inhibits liver enzymes that convert vitamin-D into active form; which can hamper calcium absorption. As a result, chronic alcoholism leads to poor mineral absorption and increased excretion of important bone-building nutrients like calcium, magnesium, vitamin-C, zinc and copper. Alcohol also blocks vitamin-B6 function. Alcohol is directly toxic to bone cells, and cause a decline in the spongy inner matrix of the trabecular bone [Schapira 1990].
Currently, there is conflicting evidence on beneficial effects of moderate alcohol consumption on the bone health. Alcohol derived from wine has favorable effects on the level of high-density lipoprotein (HDL) cholesterol and inhibition of platelet aggregation. In the elderly population, there seems to be a direct correlation between wine consumption and preservation of BMD. Red wine has high levels of polyphenols that positively influence multiple biochemical systems, such as increased HDL cholesterol, antioxidant activity, decreased platelet aggregation and endothelial adhesion, suppression of cancer cell growth, and promotion of nitric oxide production.
In contrast, higher levels of alcohol intake – more than two standard units of alcohol per day, could significantly increase the risk of hip and other osteoporotic fractures. Excess alcohol intake has direct detrimental effects on bone-forming cells and on hormones that regulate calcium metabolism [Sampson 2002]. In addition, chronic, heavy alcohol consumption is associated with reduced food intake (including low calcium, vitamin-D and protein intakes) and overall poor nutritional status, which in turn have adverse effects on skeletal health. Excess alcohol use could influence body balance and predispose the dangers of trip over, thereby increases the risk of fractures. However, available data is insufficient to indicate the precise range of alcohol consumption that would maximize bone density and minimize hip fracture risk [Felson et al 1995].
Smoking and its relation to the onset of bone disorders is complex; also various risk factors often co-exist. Body wise, smokers are thinner than non-smokers, physically less active and consume poor diet. Women smokers tend to reach early menopause than non-smokers. Among smokers, fractures take longer time to repair with several complications during the healing process. Regular tobacco use and smoking cause a significant decrease in blood total alkaline phosphatase, an indicator of bone metabolism. Although not confirmed yet, exposure to second-hand smoke during youth and early adulthood may increase the risk of acquiring low bone mass.
Smoking elevates nicotine levels in the body that cause blood vessels to constrict by approximately 25% of the normal diameter. Due to this constriction, the blood flow is reduced; consequently the supply of nutrients, minerals, and oxygen to bone tissue is diminished, which may slow down the production of bone-forming cells. In post-menopausal women, it reduces the protective effect of estrogen replacement therapy and may double the risk of rheumatoid arthritis.
Nicotine and other harmful chemicals in cigarettes affect bone health in several ways. Cigarette smoke generates huge amounts of free radicals with devastating effects on the body's natural defenses. Free radicals trigger a chain-reaction that damage tissue, organs, and hormones (e.g. estrogen) that regulate bones health. Other bone-damaging effects of smoking include elevation of the cortisol levels (hormone that regulates bone breakdown); and slowing down the calcitonin (hormone that helps to build bones). Nicotine and free radicals generated by smoking also kill the osteoblasts (bone making cells). Nicotine can also damage nerves in toes and feet, which may increase the risk of falls and fractures. [Law and Hackshaw 1997, Brot et al 1999, Krall et al 1999, Kanis et al 2005].
Caffeine is a stimulant present in a variety of drinks including tea and coffee. Although linked to a number of possible health benefits for heart and memory; caffeine is often implicated in the development of osteoporosis, due to its effect on calcium absorption. Caffeine can temporarily increase calcium excretion and may modestly decrease calcium absorption, but these effects are easily offset by increasing calcium consumption in the diet. Controlled clinical studies show that although caffeine ingestion results in a small, temporary increase in calcium excretion, it has no effect on 24-hour urinary calcium loss. One cup of regular brewed coffee causes a loss of only 2-3 mg of calcium which is easily offset by adding a tablespoon of milk. Moderate caffeine consumption, (1 cup of coffee or 2 cups of tea per day), in young women who have adequate calcium intakes would not have any negative effects on their bones. Studies that examined the effects of caffeine on rates of bone loss in post-menopausal women showed that caffeine intake had no detrimental effects, as long as calcium intake is sufficient (above 800 mg/day). However, if calcium intake is low, caffeine intake equivalent to about 3 cups of brewed coffee per day is associated with significant bone loss. A standard can of Cola drink contains 34-38 mg of caffeine. The potential risk of an acute caffeine toxicity may be greater with the consumption of "energy drinks" (stimulants and boosters) than conventional dietary sources of caffeine, like coffee and tea. Caffeine intoxication has been linked to a number of symptoms like nervousness, anxiety, restlessness, insomnia, gastrointestinal upset etc. which closely resemble symptoms of anxiety and mood disorders. [Massey 2001, Sakamoto et al 2001, Heaney 2002].
Soda drinks, high in phosphate content, are perhaps the most pervasive habit that promotes a calcium drain in the body. Phosphorus, an acid-forming mineral in the cola drinks, can interfere with calcium absorption by the bone and set off calcium loss through urinary excretion. Some studies have reported that high carbonated soft drink consumption either increased the fracture risk or decreased the bone mineral density. A recent study of soft drink consumption in adolescents suggested that teenage girls who drink lots of soda are predisposed to the risk of developing bone fractures and osteoporosis. These drinks also contain large amounts of refined sugar or equally dangerous sugar substitutes, which can trigger bone loss. During the teenage years, 40 to 60 per cent of peak bone mass is built, and therefore, it is very important to avoid or limit soda intake and change to a natural calcium-rich diet.
On the other hand, studies done with controlled calcium-metabolic methods indicated that the net effect of carbonated soft drinks, including those colas with phosphoric acid on calcium retention is low. An 'acidic diet' causes minerals to be drawn from the bones to neutralize the impact of the acid on blood pH. The body normally produces 50 to 100 mEq of acid a day during metabolism. The acid load imposed by a 20-ounce cola is only about 4.5 to 5.0 mEq, substantially less than the amount produced by eating a moderate protein breakfast. Phosphorus is a key constituent of bone mineral along with calcium, and there is no evidence for detrimental effects of phosphorus intake on bone health or osteoporosis risk in healthy individuals. The possible adverse effect of carbonated beverages may be due to substitution of milk in the diet by these drinks, which reduces calcium intake. Carbonation itself is also not responsible for the calcium depletion, as many commercial mineral waters are carbonated, and some are rich in calcium and other minerals. [Heaney et al 2001, Fitzpatrick and Heaney 2003].
REVIEWS AND ARTICLES 
Bass SL, Saxon L, Daly RM, et al (2002) The effect of mechanical loading on the size and shape of bone in pre, peri, and post-pubertal girls: A study in tennis players. Journal of Bone and Mineral Research 17(12):2274-2280.

Bassey E, Ramsdale S (1994) Increase in femoral bone density in young women following high-impact exercise. Osteoporosis International 4(2):72-75.

Brot C, Jorgensen NR, Sorensen OH (1999) The influence of smoking on vitamin D status and calcium metabolism. European Journal of Clinical Nutrition 53(12):920-926.

Felson DT, Zhang Y, Hannan MT, et al (1995) Alcohol intake and bone mineral density in elderly men and women: The Framingham Study. American Journal of Epidemiology 142(5):485-492.

Fitzpatrick L, Heaney RP (2003) Got soda? Journal of Bone and Mineral Research 18(9):1570-1572.

Heaney RP (2002) Effects of caffeine on bone and the calcium economy. Food Chemistry and Toxicology 40(9):1263-1270.

Heaney RP, Rafferty K (2001) Carbonated beverages and urinary calcium excretion. American Journal of Clinical Nutrition 74(3):343-347.

Kanis JA, Johnell O, Oden A, et al (2005) Smoking and fracture risk: A meta-analysis. Osteoporosis International 16(2):155-162.

Kelley GA, Kelley KS, Tran ZV (2001) Resistance training and bone mineral density in women: A meta-analysis of controlled trials. American Journal of Physical Medicine and Rehabilitation80(1):65-77.

Kiebzak GM (1991) Age-related bone changes. Journal of Clinical Experimental Gerontology26:171-187.

Krall EA, Dawson-Hughes B (1999) Smoking increases bone loss and decreases intestinal calcium absorption. Journal of Bone and Mineral Research 14(2):215-220.

Law MR, Hackshaw AK (1997) A meta-analysis of cigarette smoking, bone mineral density and risk of hip fracture: Recognition of a major effect. British Medical Journal 315(7114):973-980.

Massey LK (2001) Is caffeine a risk factor for bone loss in the elderly? American Journal of Clinical Nutrition 74(5):569-570.

Sakamoto W, Nishihira J, Fujie K, et al (2001) Effect of coffee consumption on bone metabolism. Bone 28:332-336.

Salamone LM, Cauley JA, Black DM, et al (1999) Effect of a lifestyle intervention on bone mineral density in premenopausal women: A randomized trial. American Journal of Clinical Nutrition70(1):97-103.

Sampson HW (2002) Alcohol and other factors affecting osteoporosis risk in women. Alcohol Research and Health 26(4):292-298.

Schapira D (1990) Alcohol abuse and osteoporosis. Seminars in Arthritis Rheumatism 19(6):371–376.

Specker BL (1996) Evidence for an interaction between calcium intake and physical activity on changes in bone mineral density. Journal Bone and Mineral Research 11(10):1539-1544.

U.S. Department of Agriculture, Human Nutrition Information Service (1992) Food Guide Pyramid (Home and Garden Bulletin Number 252, supersedes HG-249.)

U.S. Department of Health and Human Services. Healthy People 2010. Washington (DC): January 2000.

Wallace BA, Cumming RG (2000) Systematic review of randomized trials of the effect of exercise on bone mass in pre- and postmenopausal women. Calcified Tissue International 67(1):10-18.

Wardlaw G (1988) The effects of diet and lifestyle on bone mass in women. Journal of the American Dietetic Association 44:283-286.

Wolff I, van Croonenborg JJ, Kemper HC, et al (1999) The effect of exercise training programs on bone mass: A meta-analysis of published controlled trials in pre- and postmenopausal women. Osteoporosis International 9(1):1-12.

Wright JD, Wang CY, Kennedy-Stevenson J, Ervin RB (2003) Dietary intakes of ten key nutrients for public health, United States: 1999-2000. Advanced Data 334:1-4.